---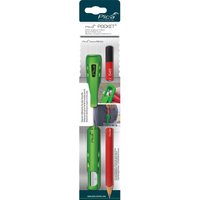 Pica Pocket + FOR ALL Universal Marking Pencil Blister Pack - 505/04
Introducing the Pica Pocket plus FOR ALL Universal Marking Pencil Blister Pack
The Perfect Combination for Professionals!

 Pack Includes:
1 Pica POCKET Quiver & Blade in one
1 Pica FOR ALL Graphite Universal Pencil
--------
Pica Pocket Quiver & Blade - 505:

Fits all thick wooden pencils

Ingenious clamping keeps your pencil within reach

Integrated carbon steel blade for effortless sharpening

Strong clip for a secure fit in your trouser pocket
FOR ALL Graphite Universal Pencil - 545/24 :
Size: 23cm long

Graphite lead 2B

Sharpened on one side

Mark on almost all surfaces like metal, plastic, tiles, ceramic, laminate and more...
Rich marking lines even on glossy or wet surfaces
Wipe markings clean with a damp cloth
Upgrade your toolkit with the Pica Pocket and FOR ALL Universal Marking Pencil.

Order today and witness the difference it makes in your work!

Pencil Recommended Use:
Tiles & Ceramic

Plastic

Wet Lumber

Dry Lumber

Metal

Worked Timber & Laminate
Suitable Use:
Acceptable Use:
Leather

Wet Tire & Rubber
Dry Tire & Rubber
Glass