---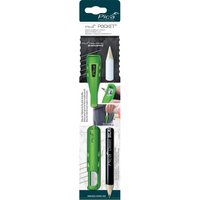 Pica Pocket + FOR ALL Black & White Pencil Blister Pack - 505/03
Introducing the Pica Pocket plus FOR ALL Black & White Pencil Blister Pack
The Perfect Combination for Professionals!
 Pack Includes:
1 Pica POCKET Quiver & Blade in one
1 Pica FOR ALL Black & White marking pencil
--------
Pica Pocket Quiver & Blade - 505:

Fits all thick wooden pencils

Ingenious clamping keeps your pencil within reach

Integrated carbon steel blade for effortless sharpening

Strong clip for a secure fit in your trouser pocket
FOR ALL Black & White Pencil - 546/24 :
Size: 23cm long

Sharpened on both sides

Black half: thick graphite lead 2B

White half: universal colored lead

Almost all surfaces like metal, glass, plastic, tiles, ceramic, laminate and more...

Rich marking lines even on glossy or wet surfaces
Wipe markings clean with a damp cloth
Upgrade your toolkit with the Pica Pocket and FOR Black & White Pencil.

Order today and witness the difference it makes in your work!

Pencil Recommended Use:
Tiles & Ceramic

Plastic

Wet Lumber

Dry Lumber

Metal

Worked Timber & Laminate
Suitable Use:
Acceptable Use:
Leather

Wet Tire & Rubber
Dry Tire & Rubber
Glass